Insurance companies will not insure homes where a trampoline is present! (Trampolines are a Hazard and a Great Liability Risk)
Trampolines are not a welcome site when a Homeowners Inspector shows for the site inspection; inspectors are instructed to report the presence of a trampoline.
It is commonplace for a homeowner to offer to pay more for homeowners insurance in order to accept the presence of a trampoline;  since insurance translates to 'RISK' and 'RISK' is gauged by statistics, most insurance companies have elected to avoid the trampoline risk without any interest in charging a surcharge.
Why are Trampolines such a big deal?  Why are Insurance Companies such haters?
Children commonly show each other how high they can jump, many times, falling in an awkward position and injuring themselves with sprains, broken bones or breaking their necks.
The homeowners may be liable for injuries; the trampoline may be defined as an "attractive nuisance". No matter how we view the trampoline, it is a hazard and certainly a risk.
If someone sustains a life-altering injury (perhaps paralysis), most likely, the insurance carrier will pay out the policy limit and leave the homeowner to defend himself/herself with the threat of losing the home and any other assets which may help mediate the claim.
A personal umbrella policy may provide excess coverage after the homeowners insurance policy liability limit is exhausted; however, the umbrella policy may have an exclusion for trampolines which may be outlined in the original application or within the policy contract.
Is it worth the risk?   Think twice before buying a trampoline! 
Insurance companies will decline to insure the home if the presence of the trampoline is disclosed.   It is commonplace for insurance companies to order a site inspection in which case inspectors are specifically asked about trampolines.   If the house was insured and a trampoline is spotted, the insurance policy will either be cancelled or non-renewed depending on the underwriting guidelines and legal regulations in the State.
After understanding the risk stated above, there are homeowners that will wish to purchase a portable trampoline and hide it from open view simply keeping it in the garage and reassembling it for children to jump on during a garden party. Who are we kidding?  Insurance carriers are savvy and employ legal professionals to provide verbiage defining both the risk and their responsibility.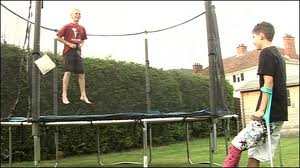 A few minutes of fun followed by a lifetime of legal issues ending the homeowner in financial ruin!   …………..   Is it worth it?