Although homeowners insurance isn't required by law, it is contractually required by all mortgage companies. If one is starkly opposed to the idea of home insurance, paying off the mortgage would take care of the issue.  If the latter isn't feasible at the present time, there are some ways to save money on insurance premium with just a few adjustments reducing the risk to the insurance carrier.  It is always good to speak to your insurance company and ask to go over available discounts; as well as going over any optional coverages, policy coverage limits and the applicable deductible in the event of a claim. 
Homeowners Insurance is not required by law!
Auto insurance is required by law due to the interest of protection of third parties harmed in the event of an accident, comprehensive and collision coverage is not required by law on vehicles.  Similar to homeowners insurance, an auto loan or a leased vehicle will include a contractually obligation to provide physical damage insurance coverage on the vehicle. Mortgage companies require homeowners insurance in order to protect their investment. Even for those who are fortunate enough to own a home without a mortgage, it would be prudent to carry insurance even if with a very high deductible in order to protect the home from a total loss.  If an uninsured home is damaged or destroyed, the burden of reconstruction would be completely on the owner of the home.
What does Hazard Insurance mean?
Hazard insurance is simply a term used by mortgage companies to define insurance for their risk.   In reference to home mortgages, Hazard Insurance could be Fire Insurance, Homeowners Insurance, Landlords Insurance, Condo Unit Owners Insurance, Townhome Insurance or Flood Insurance.  Mortgage companies and banks are simply seeking to cover perils against the destruction of property against which they are lending money.
For most homeowners, if you have homeowners insurance, this is in compliance with Hazard Insurance required by mortgage companies.  In special flood hazard areas as determined by FEMA,  mortgage companies may also require Flood Insurance.
How much Homeowners Insurance should I have?
Homeowners Insurance simply needs to provide sufficient coverage to rebuild the home in the event of a total covered loss.  Insurance companies use software to estimate the appropriate coverage limits needed to rebuild the home. The homeowners insurance quote will greatly vary based on the amount of coverage; however, all preferred carriers will insist on the limit being equal to at least 100% of the current reconstruction cost of the insured dwelling.  The following questions may be important to determine how much homeowners insurance one will desire:
What is the current cost to rebuild my home in the event of a fire?
How much will it cost to replace all my furniture and personal belongings?
How much Personal Liability do I want to carry?
The market value of a home and the reconstruction value of the dwelling are totally different values; insurance companies insure homes for the reconstruction value of the dwelling only.  Market values may be lower or higher than the current reconstruction cost which is comprised of the materials and labor necessary to rebuild the home.
Personal Liability is a coverage item including on all Homeowners Insurance Package policies; most commonly the minimum limit is $100,000 per occurrence and companies offer as high as $1 Million in some cases.  This coverage is not expensive and it is important to make sure that the limit selected is high enough to protect your assets. Attorneys commonly suggest purchasing the highest limit available and if needed to purchase a Personal Umbrella Policy to offer excess coverage.
How do Home Insurance Deductibles work?
Home Insurance deductibles work a little different to deductibles of Auto Insurance; in the case of homeowners insurance claims, the deductible is deducted from the claim payout.  In the case of auto insurance claims, a customer typically pays the deductible to a repair facility directly and the balance is paid by the insurance carrier.
With both Homeowners and Auto Insurance, a higher deductible generates a lower premium and a lower deductible generates a higher premium.
Insurance Companies moving to Percentage-based home insurance deductibles
In many states, insurance companies seem to be moving over to percentage-based deductibles versus traditional fixed dollar deductibles.  In the case of percentage-based deductibles, the deductible is the stated percentage of the Dwelling Coverage Limit; for instance, if the Dwelling is covered for $450,000 and you have a 1% deductible, the deductible for that policy will be $4,500 per occurrence.   In a similar policy, a fixed deductible may be $2,500 or $5,000 deductible per loss.  Policies sometimes have separate stated deductible for Wind/Hail claims and a different stated deductible for 'All Other Losses'.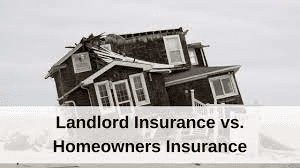 What is Rental Home Insurance?
Rental Home Insurance may also be known as a Landlord Insurance policy which usually includes the same type of fire protection as a homeowners insurance policy; however, Landlords Insurance refers to a tenant occupied property whereas Homeowners Insurance refers to an owner-occupied primary dwelling.  It is essential that you have the correct policy form for your situation as in the event of a claim, the insurance carrier will provide coverage based on the definitions within the insurance contract.