Fear of Earthquake Devastation?
Following the recent Seismic Events circling the Pacific Tectonic Plates, Earthquake Insurance has once again become the 'Talk of the Town'! Many consumers seem to be making decisions in a rushed manner out of fear, buying a high premium/low deductible policy which is almost certain not to be renewed the following year. (Waste of Money!!!)
Earthquake Insurance has to be assessed over a long term, a period of probability where it would make financial sense to both pay for the premium and also absorb the deductible including a plan of how to come up with the sizable deductible. There is an answer for every budget!
There exists a great program underwriting in California, Oregon & Washington; the insurance policy has flexibility both in coverage and deductible and it also offers stable financial security for the consumer.
INSURANCE COMPANY
Admitted carrier rated "A-" (VII) by A.M. Best Company
GEOGRAPHIC AREA
CA, OR, WA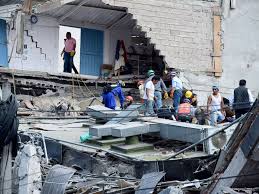 PROGRAM INFORMATION
HDA Insurance's Residential Earthquake insurance program is designed to provide superior earthquake insurance options for California, Oregon, and Washington home and condo unit owners. Since the Northridge earthquake of 1994, Insurance companies have greatly restricted the types of policies they are willing to offer and, in many cases, raised the premium as well. This has created a vacuum in the insurance marketplace for reasonably priced, flexible, and high quality insurance products.
The HDA Residential Earthquake Insurance program delivers insurance products with broader coverages, higher limits and lower deductibles. The rates are very competitive, though dependent on geographic location and age of dwelling as would be expected.
In addition to the flexibility of the earthquake insurance program, HDA  provides the simple process of obtaining a quotation, answering consumers' questions and/or concerns, and an unbelievably simply application process with very few questions asked. All policies are Direct billed with either a full-pay or six-pay option providing the simplicity and convenience clients need, all this plus a consumer web portal to submit payments online. In addition, payments can be made by personal check, VISA, MasterCard or AMEX and if paid online, a receipt is automatically generated.
Target Markets:
Newer frame construction or reinforces masonry/reinforced concrete construction structures, or those that have been retrofitted and built on flat or gently sloping lots with slab or raised concrete foundations.
PROGRAM HIGHLIGHTS:
» Quick quoting process
» Eight different deductible options ranging from 2.5% to 25%
» Stand-alone policy, can be written alongside any admitted Homeowners, Landlords or Condo policy
» Reinforced masonry and reinforced concrete construction now acceptable
» 100% brick veneer dwellings now acceptable
» Retrofit no longer required on older homes for eligibility (Credit/discount available when acceptable proof of retrofit is received)
» No slope restrictions
» Admitted carrier backed by CIGA (California Insurance Guarantee Association)
COVERAGE HIGHLIGHTS
» Up to $15 million Insurable Value
» Customizable coverage limits, you do not have to buy policy as a full package, limits may be adjusted
» Increased loss assessment coverage available up to $100K
» Deductible applies by line of coverage (Customer has a better chance at collecting on a partial-loss claim than on "Blanket Deductible" type policy)
» Deductible is waived for the first $1,500 loss-of-use
» Great alternative to limited CEA or "Mandatory-Offer" (Mini EQ) style policies as well as one-size-fits-all type policies