Home Buyers – How Credit Score Affects Mortgage & Insurance
As we reach the peak of our lives amidst the excitement of buying our first home, it has been noted that 76 percent of Americans have no idea how to obtain their credit report and analyze their credit history; further, most potential home buyers are unsure of how to go about correcting any errors or making any steps to positively impact their credit score prior to applying for a mortgage.
It is simply a fact that credit scores play a major role in the approval process of a mortgage loan; mortgage companies and banks are not in the business of repossessing homes but merely in the business of earning interest on mortgage contracts. Banks and mortgage companies have no incentive to make bad loans or make favorable gestures to allow buyers to slip by the process without following the mortgage loan underwriting guidelines.
It is important for all Americans to keep the best possible credit history whether they are planning to take advantage of still-low interest rates, buying a home, or perhaps applying for a credit card of auto loan. The financial sector preys on everyday Americans by demanding the highest possible interest rates the law allows and they can collect. A high credit score and considerable savings are the cheapest way for Americans to survive both in the present and in the future economies. Living in such a highly consumer dependent economy, Americans are urged to keep spending and even more so by making credit readily available to buy what people may want in the short term rather than need.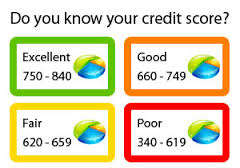 Despite the fact that many consumers recognize the importance of credit scores, many of the same people also feel that a sudden increase in income or closing old credit accounts would potentially raise their credit score. Credit Scores are a guideline utilized by the financial sector to grade or indicate the reliability of a consumer to repay a debt; it doesn't surprise the common financier that even Homeowners Insurance rates would fluctuate in most States where credit scoring is allowed as a form of rating criteria. Property owners with a good credit history are traditionally a better risk not only for lending purposes but also a better insurance risk; property owners with a high FICO score are less likely to make small insurance claims or embellish a small claim for the purpose of financial gain.
According to a recent survey by Experian, only 24% of consumers actually review their credit report and analyze their credit score during the immediate period prior to buying a new home or applying to refinance their present home. Realistically, credit history is a lifetime tracking report and should be continuously monitored when depending on a credit based economy. All the credit agencies offer a credit monitoring service where consumers can receive updates on changes of their credit score and the ability to obtain a copy of their credit report without creating a credit inquiry.
HDA Insurance shares some tips for those planning to buy a house:
Begin with your credit report. Each credit bureau allows you to obtain a free credit report at least once a year; be certain it is accurate and there are no errors which may negatively affect your score.
Shop your mortgage. There are thousands of banks, mortgage companies and mortgage brokers all ready with the 'best deal'! This may be the most expensive decision (or mistake) in buying a home; get the lowest rate and least fees charged possible. Beware, it is easier to get qualified with a mortgage broker rather than being funded by a direct lender, the difference is usually the addition of fees and a higher rate charged by mortgage brokers.
Cash is King. The larger your down payment, the less you will finance. A better equity position offers more financing options with less payments and interest during the term of your mortgage. Remember, $100 more or less per month means $36,000 during the term of a 30 year loan; $200 more or less per month means $64,000 during the same term. The more you finance, the richer you make the bank or mortgage company.
Is it the Right Time? Timing is crucial when making life's big decisions. For some people, a Condo or Townhome works out better; for some, renting may be a better option. Take your time and only move if every step feels comfortable.
Get a Homeowners Insurance Quote. Don't wait until the last day of escrow to seek insurance; don't leave it up to someone else to make the important decision of getting the coverage you would like and deserve.